Because they [bleeping] owe us money!

You've got till Friday, Mahmoud, or every mother[bleeping] mullah in Qum is going to wake up with his brains in his turban. Capisce?
An Israeli advocacy group won a $323 million judgment in a US court against Iran and Syria for supporting Palestinian militants that killed an American teenager and ten others in a 2006 bombing, the group's director said Tuesday.

Nitsana Darshan-Leitner of the Shurat HaDin Israel Law Center that represents victims of Palestinian violence said Tuesday that the group had won courtroom victories against Iran but never before against Syria.

The center was representing the family of 16-year-old Daniel Wultz of Florida, who was among 11 killed when an Islamic Jihad suicide bomber set off his explosives at a Tel Aviv restaurant six years ago. Daniel's father was severely injured in the attack.

Darshan-Leitner said that Iran supports the Islamic Jihad movement financially while Syria had granted the group a haven to train in its territory.

US District Judge Royce Lamberth said in the Monday ruling, "When a state chooses to uses terror as a policy tool – as Iran and Syria continue to do – that state forfeits its sovereign immunity and deserves unadorned condemnation. Barbaric acts like the April 17, 2006 suicide bombing have no place in civilized society and present a moral depravity that knows no bounds."

That's going to cost you, shorty.
"Barbaric acts"? Surely he means "acts of legitimate resistance". Let's ask the victim. What say you, Daniel?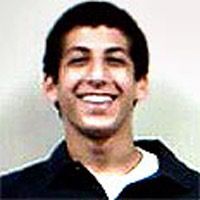 Oh dear, I'm sorry, Daniel can't answer. He was murdered six years ago.
Even $323 million won't bring him back, but if it makes a state sponsor of terrorism think twice about dispatching a mentally ill young man to set off a girdle of Semtex and hex bolts in a crowded restaurant, then it may buy us a measure of peace.
For Daniel and his family, it is sadly too late.
PS: How can we not keep in mind the "barbaric acts" committed by the Arab/Muslim world in any discussion of the Middle East? Aren't they the defining acts of the region, of the "conflict"? How can one side's olive trees or another side's garden shed even rate a mention when these (and I quote) "barbaric acts" are still committed as regularly as opportunity allows? (Just ask the Fogel family or Asher and Yonatan Palmer if you don't believe me. Oops—dead again!)