Not the Apartheid State you might be thinking of:
[NB: Video's a little creepy, just so you know.]
Sweden's culture minister was feeling the heat Wednesday after a weekend art exhibit in which she cut up a cake baked into the shape of a cartoonishly stereotyped African woman.

A group representing Swedes of African descent has called for Lena Adelsohn Liljeroth to resign over that it called a racist caricature. But Liljeroth defended her participation, saying the cake was designed to "challenge the traditional image of racism."

"While the symbolism in the piece is despicable, it is unfortunate and highly regrettable that the presentation has been interpreted as an expression of racism by some," Liljeroth said in a statement issued by her office. "The artistic intent was the exact opposite."

The artist who designed the cake, Makode Linde, is of African descent himself and said the piece was aimed at condemning the practice of female genital mutilation. Pictures from the Sunday exhibition showed Liljeroth slicing into the cake from the "genitals" and feeding it to Linde, who told CNN he made himself the head of the figure and screamed in pain when it was cut.

"I didn't intend for anyone to feel singled out or embarrassed," he said. "But we're talking about female genital mutilation — is there any comfortable or cozy way to talk about it?"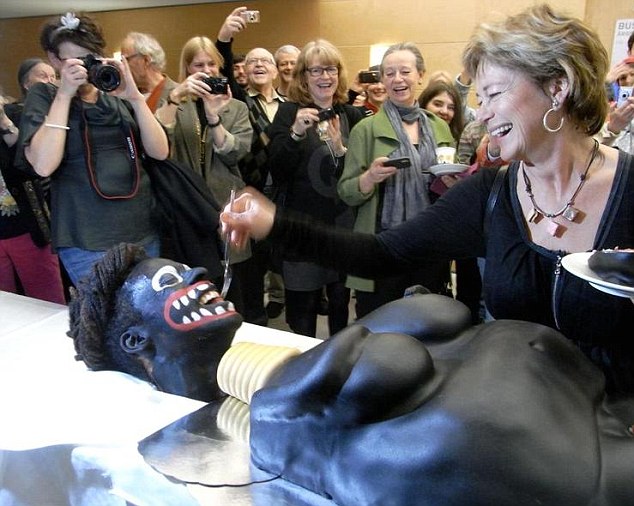 Fair enough. But to take such obvious and inappropriate pleasure in mutilating a black woman? Sorry, Sweden, you're disqualified from speaking out on anything.
UPDATE: As Aggie observes in a comment, YouTube has pulled the vid (though I found it playing on another site.) It's just as well; I felt icky about putting it up here.
But that means I get to post another picture of indifferent Swedish people:
Again, artists do crazy things. They think that makes them "relevant". But white culture ministers should refrain from sawing away at the private bits of racist caricatures. As a rule.