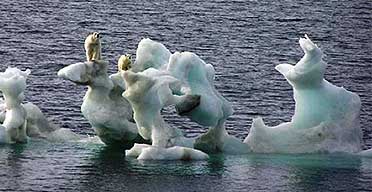 What?!? We were just getting used to this!
Scenarios of a sea ice tipping point leading to a permanently ice-free Arctic Ocean were based on oversimplified arguments

New research by Till Wagner and Ian Eisenman, scientists at Scripps Institution of Oceanography, UC San Diego, resolves a long-running debate over irreversible Arctic sea ice loss.

Ever since the striking record minimum Arctic sea ice extent in 2007, the ominous scenario of a sea ice tipping point has been a fixture in the public debate surrounding man-made climate change and a contingency for which Arctic-bordering countries have prepared.

…

"We found that two key physical processes, which were often overlooked in previous process models, were actually essential for accurately describing whether sea ice loss is reversible," said Eisenman, a professor of climate dynamics at Scripps Oceanography. "One relates to how heat moves from the tropics to the poles and the other is associated with the seasonal cycle. None of the relevant previous process modeling studies had included both of these factors, which led them to spuriously identify a tipping point that did not correspond to the real world."
Get outta here with that "real world" crap. What's the real world got to do with it?

Don't pi** me off. It's not pretty.
Speaking of science that ain't so settled:
BASED ON LINEAR TRENDS, THE NEW UAH LOWER TROPOSPHERE TEMPERATURE DATA SHOW NO WARMING FOR 18+ YEARS, LIKE RSS

For Figure 1, I've extended the new UAH version 6.0 beta and the RSS lower troposphere temperature anomaly data as far back in time as they could go while showing no warming based on their linear trends. The new UAH data show no warming for 219 months, and for the RSS data, it's 220 months.
A little tiny baby born back in the last month of global warming can now go to a porn website and click on the "I'm over 18″ button in good conscience. Is this a great country or what?
Okay, put another way, Bill Clinton stopped the seas from rising. While the other guy was "getting us coffee".