And not a cent of it paid for:
More than 1,000 protesters rallied outside Cobo Center over shutoffs by the city's water department.

The protest is led by National Nurses United, which says the shutoffs pose a public health emergency. The group and others seek an immediate end to them.

The group will march eight blocks, passing Detroit banks and City Hall before ending at Hart Plaza.

But Detroit Water and Sewerage spokesman Greg Eno says the city-owned utility has no plans to stop the shutoffs on accounts 60 days or more past due.

The water department stepped up the shutoffs in March to collect some of the nearly $90 million owed by residents, businesses and other customers with past-due accounts. Through June, more than $43 million was owed on over 80,000 city residential accounts.

Forty to 50% of Detroit Water and Sewerage bills are deliquent.

Water officials say they are working with customers who have "legitimate" problems paying their bills.
Ninety-million dollars owed; 80,000 delinquent accounts—more than half. When did Detroit relocate to the Horn of Africa? Unsurprisingly, the UN took the opportunity of lawlessness and irresponsibility to pipe up:
Some groups appealed to the United Nations for support in an effort to force the restoration of service. Three U.N. experts last month responded that the shutoffs could constitute a violation of the human right to water, but what the global organization might do beyond that is unclear.
Typical of the UN. But "the human right to water"? Says who? A necessity, sure, but a right? How did our Founding Fathers miss that one when they were enumerating the "unalienable" rights "endowed by our Creator"? And not just water, but ice and a lime wedge. And maybe some cheese and crackers, but not too much as we're watching our weight. (And what qualifies someone to be a UN "expert" on water? And why did they need three?)
Last I checked, Detroit was on a river (the Detroit River, coincidentally). Help yourself: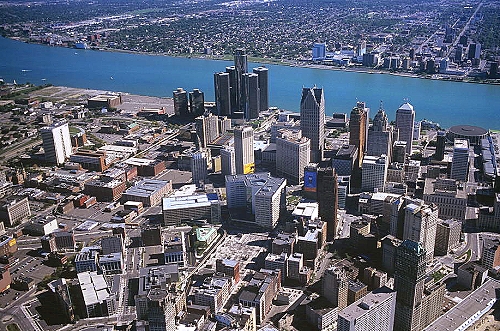 It's blue and it's free. And it's yours for the schleping.