I neglected to mention the other day the main exhibit in our Beantown Terror Tour. We've already staked out the malt shop in Cambridge where Tamerlan and Dzokar Tsarnaev hung out after school (carrying girls' books for them); we sit in the very seats at the gate where Mohammed Atta et al waited to board their final flights; we pass the house where the Times Square bomber plotted his scheme of mass murder on an unimaginable scale.
But I forgot the most important one: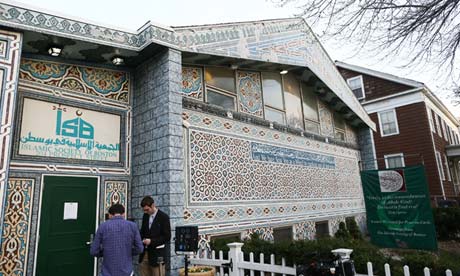 When it was revealed that the Boston Marathon bombers attended a Cambridge, Mass., mosque, its leaders were quick to disavow their actions.

Elder brother Tamerlan Tsarnaev's ideology was not their own, the leaders of the Islamic Society mosque claimed. In fact, he was admonished for an extremist outburst he made during one sermon.

So, one crackpot in a congregation. Who can blame the mosque?

But what about eight — including a prominent member of ISIS?

As it turns out, worshippers at the Islamic Society have included:

Abdurahman Alamoudi, the mosque's founder and first president who in 2004 was sentenced to 23 years in prison for plotting terrorism. In 2005, the Treasury Department issued a statement saying Alamoudi raised money for al Qaeda in the US.

Aafia Siddiqui, an MIT scientist-turned-al Qaeda agent, who in 2010 was sentenced to 86 years in prison for planning a New York chemical attack. Known as "Lady al Qaeda," she is related to 9/11 mastermind Khalid Sheik Mohammed. ISIS has tried to trade her release for journalist hostages.

Tarek Mehanna, who in 2012 got 17 years in prison for conspiring to use automatic weapons to murder shoppers in a suburban Boston mall.

Yusuf al-Qaradawi, a mosque trustee and Egyptian Muslim Brotherhood leader banned from the US after issuing a fatwa that called for the killing of US soldiers.

Jamal Badawi, another former trustee who in 2007 was named an unindicted co-conspirator in a plan to funnel more than $12 million to Palestinian suicide bombers.

Now it can be revealed that another regular worshipper at the Islamic Society mosque was Ahmad Abousamra, who is now the top propagandist for ISIS.


Abousamra's father, a prominent doctor, even sat on the board of directors of the Muslim organization that runs the mosque. He stepped down after the FBI began questioning his son.
Hey, what do I know? Maybe every mosque has this many sworn jihadists among its parishioners. It would fit the available evidence.
The Islamic Society insists it's moderate — that these extremists were fed by online forums. But Charles Jacobs, head of Boston's Americans for Peace and Tolerance, says the mosque has hosted pro-jihad speakers and has stocked its library with classic jihadi texts — including writings by Osama bin Laden mentor Syed Qutb.

And Islamic Society leaders have openly defended their worshippers convicted of terrorism — including Siddiqui and Mehanna — despite overwhelming evidence against them. At their hearings and trials, officials have sought their release or lenient sentences. They have also held fund-raisers and rallies for the terrorists.

Recently, investigators found a mosque prayer card for Mehanna tucked in a Russian dictionary in Tsarnaev's Cambridge apartment.

…

As for the Islamic Society, it insists it isn't preaching hate.

But how many terrorists does it take before people are convinced it isn't a coincidence?
Step right up, ladies and gentlemen! Take a gander at the incubator of ISIS, the terrarium of terrorism, Mohammed's pied á terror. That's right, this is little mosque harbored not one, not two, not three, but eight—eight—Islamist scumbags. Step lively, though, we have many stops to make!