First, let's remember the first Hadiya Pendleton (on whom, I confess, I have a little bit of a crush, if a posthumous one)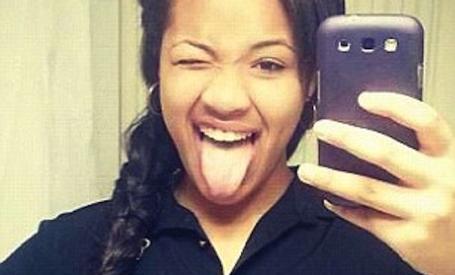 Can you blame me?
Now, meet her successor, Gakira Barnes:
The gap between Gakirah Barnes's front teeth when she smiled, whether she was celebrating on the basketball court or messing around with friends, made her look even younger than the 17 years she spent in south Chicago before being shot to death last weekend.

"At least I don't have to constantly worry about what's going to happen to her out on the street no more," said her mother, Shontell Brown, who wept as she inspected the cemetery plot where Gakirah will be buried on Monday. Her father, who was gunned down on her first Easter Sunday, lies nearby. Her twin brother, who saw his best friend murdered in 2011, will be at the funeral.

Though mourned as a victim by her family and her girlfriend, Gakirah – one of five Chicagoans killed and 36 wounded over the city's warmest and bloodiest weekend of the year so far – was, according to police and neighbourhood sources, also part of the problem: a hip-hop-fuelled gang war that is raging even as Mayor Rahm Emanuel boasts that crime is at a record low.
Sweet girl that she was, Gakirah was not quite so sweet as my girl, Hadiya:
Nicknamed K I, Gakirah is said to have run with the STL-EBT crew, a young branch of the notorious Gangster Disciples, who have bedevilled the south side since the 1960s. As allies of Lil Jay, a local up-and-coming rapper, they clashed with boys from the nearby Parkway Gardens projects who are loyal to the rival Black Disciples, and to Jay's more established nemesis, Keith "Chief Keef" Cozart, who is signed to Interscope Records, the home of superstars Dr Dre and Eminem.
Oh, okay. That explains everything.
Some at Parkway Gardens, which is nicknamed "O Block" in Perry's memory, blame Gakirah for his death. "That's false information," said her mother. "Rip K I Da Shooter," Lil Jay wrote under a picture of Gakirah pointing her hand like a gun that he posted to Instagram, after she was killed. The battle continued in the comments below. "This summer gone get real," warned one user. As social media buzzed with accusations, Keno Glass, an aspiring rapper and cousin of Coleman, was shot dead in a drive-by at 2:40am on Tuesday. He was just 16.
What would people do to me if they learned I ran around with the Scarlatti gang? Dom probably had his enemies, same as everyone.
One Sonata in G Major and I'd be a dead man.