The little boy looks barely old enough to walk, let alone understand the dark world he's now inhabiting.

He should be toddling around a playground with his friends. But instead, he wears a black balaclava, crouched down in a desolate street with his tiny hands clenched around an AK-47.

He pulls the trigger and the recoil of the shot knocks him back, his limbs unable to control the rifle. An adult takes the weapon from the boy's hands as he stands up and steps away, casting a blank glance into the camera.

It's just one of the many videos that ISIS — the Sunni terror group that has declared an independent Islamic state stretching from northern Syria to central Iraq — has produced to boast of its youngest "recruits."

And as the radical Islamist group strengthens its hold on this huge swath of land in the heart of the Middle East, it is cramming its warped ideas into minds that are often too young to understand.

Mohammed, whose name has been changed out of fears for his safety, was one of them. He has now fled to safety in Turkey, but was just 13 when ISIS said he should attend one of their children's camps in northern Syria.

"My friends and I were studying at the mosque, and they taught us that we should enrol in jihad with the [Islamic State]," Mohammed told CNN. "I wanted to go, but my father did not allow me to."

When ISIS found out that Mohammed's father had prevented him from attending, the militants sent a patrol to their house.

"[They told me] 'if you prevent Mohammed from coming to the camp, we will cut off your head,'" his father, who declined to be named for this story, told CNN. "They were armed … and you saw the slaughter in your own yes."

So off Mohammed went to the camp.
There's a good little shahid.
But where have you been, CNN? Arab terrorists have been holding terrorist summer camps as long as there has been terrorism, summer, or Arabs!
Here's one from our archives:
The Hamas government in Gaza celebrated the graduation on Monday of paramilitary camps geared at training high-school children "to follow in the footsteps of the suicide martyrs."

…

"Beware this generation," Haniyeh said, addressing Israel. "This is a generation which knows no fear. It is the generation of the missile, the tunnel and the suicide operations."

The Hamas prime minister added that female trainers are also on staff "to oversee the training of the young women to follow in the footsteps of the female suicide operatives."
As the hot weather arrives in Gaza, children head to the town of Rafah for summer camp — not to play sports but to join war games organized by the Islamic Jihad terrorist group, the AFP news agency reports.

Youngsters wearing military fatigues and the movement's black insignia capture a fellow camper posing as an Israeli soldier and drag him away — all
part of being trained to "resist" the enemy.

Around 100 children under the age of 16 learn from members of Islamic Jihad's armed wing Al-Quds Brigades how to strip down an AK-47 assault rifle, crawl through tunnels and run across burning tires amid the sound of explosions on their assault course.

"When I'm older I want to fight in Al-Quds Brigades and capture Israeli troops," said 12-year-old Ezz, who was this time playing the role of the unfortunate enemy soldier taken from his position atop a scorching sand dune.

Ezz is a pupil at a school in the Gaza Strip run by the UN's Palestinian refugee agency UNRWA.
See, CNN? Not only are these camps common as muck, and hardly secret, they're run by the United Nations!
And learning how to hate and kill Jews is not just fun and games.
This connection between education and terrorism was demonstrates in the clearest and most shocking way possible in photos published Tuesday. The images from a year-end party at a Gaza kindergarten show young children wearing army fatigues and waving toy guns. These same youngsters also chanted anti-Israel slogans, expressing their desire to attack the Jewish state with missiles, blow up in buses, and die as martyrs.
Your shock—shock!—at terrorist training camps for Arab youth would be adorable if it weren't so despicable. Hamass, Islamic Jihad, Fatah have been running these child abuse mills for years. Years. Sometimes with UN funding. And some parents don't wait until school age.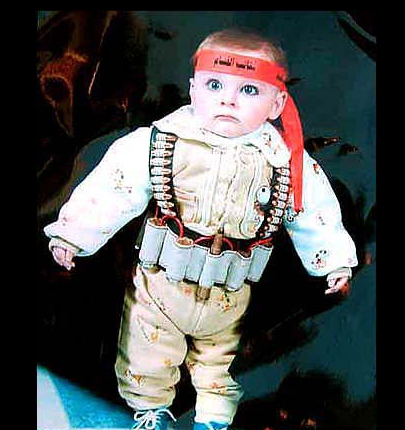 I ask again, CNN: where you been? Or is it not so shocking if the targets of the genocide are of the Jewish persuasion?