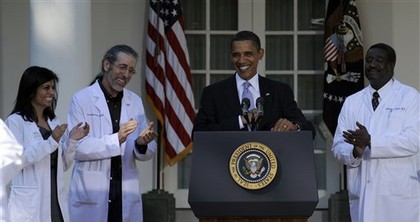 The check's in the mail… and your patients can keep you!
Two months before enrollment began in the Obamacare exchanges, the administration's top health care official heaped praise on WebMD for launching an online resource to help Americans navigate the complex law.

The consumer health care site had the occasional nice thing to say about Obamacare, too. In one article, it predicted doctors might pick up more patients and crowed in an article titled "7 Surprising Things About the Affordable Care Act" that many consumers already had received insurance refunds under the law.

But what neither Health and Human Services Secretary Kathleen Sebelius nor WebMD mentioned at the time was that the company, which millions of Americans regularly read for health news, also stood to earn millions of dollars from a federal contract to teach doctors about Obamacare.

The contract documents, reviewed by The Washington Times, reward WebMD handsomely.

…

WebMD says it doesn't believe it had an obligation to disclose to its broad consumer base its $4.8 million contract with the government.
You can see the lumps from the wads of cash stuffed inside the pockets of the White House-provided lab coats. Don't spend all thirty pieces of silver in one place!