Harry Reid's announcement of his retirement next year prompted this remembrance by Rush Limbaugh of a despicable act so low, so vile, I had to share it with you: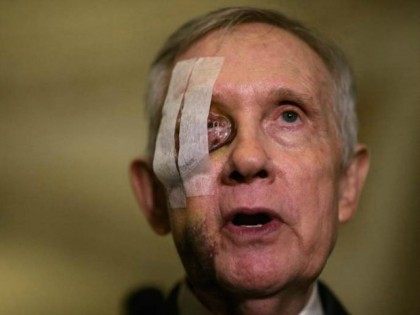 The exercise machine got it even worse.
RUSH: But we've had a very famous run-in with Dingy Harry on this program. Dingy Harry once attempted to have your host — your beloved fuzzball leader, me — censored and silenced. Dingy Harry applied pressure to the chief executive officer of my then syndication partner, Clear Channel Communications, a man by the name of Mark Mays. You remember this? It was over this totally made up controversy involving the phony soldier.

…

Eight years ago, in 2007. It was in September and October. The short version is that a man claiming to be a veteran of the Iraq war came back to the United States and began bashing the American military, bashing the war effort, bashing George Bush. We did a little research and we determined the guy was a fraud, that he had never been to Iraq.

He had never been in the US military!

He was a leftist plant much like a Cindy Sheehan was. He was totally made up, and the media was supporting him and the Democrat Party was supporting him, and he was a total fraud. I ended up calling the guy "a phony soldier," and this irritated Harry Reid, who only knew about this from reading from a propaganda website called Media Matters for America, which was also lying about all of this. So Harry Reid or somebody on his staff reads the account and thinks that I have maligned a real hero as a "phony soldier."

…

Harry Reid goes to the floor of the United States Senate and reads a letter that he had sent to the then-CEO of Clear Channel Communications, my syndicating partner. The man's name was Mark Mays. Harry Reid called him Mark May. And the letter begged or asked, and it's… You're a CEO of a major American communications conglomerate. Many of your properties are regulated by the federal government, the FCC.

You get a letter from the Senate majority leader suggesting you do something and there is a lot of implied intimidation, and Harry Reid knew this. And the letter that Dingy Harry composed and sent to Mark Mays, he read verbatim on the Senate floor. And he asked Mark Mays to censor me, to make me apologize and to think seriously about allowing me to continue. And then, after reading the letter, he then did indeed send it.

And Mark Mays did indeed receive it, at which point I had an idea. I got hold of Mark Mays — syndication partner, CEO, Clear Channel Communications — and I asked him if I could have the letter for the purposes of auctioning it on eBay, because what that letter represented was the long arm of the federal government making a direct assault on the First Amendment rights of an average, ordinary American citizen. That would be me.

…

Mark Mays gave me that letter after I requested it. He sent it to me and allowed me to use it however I wanted, which I thought was a profound act of courage and bravery. Remember, his company has properties — radio stations, TV stations — that were regulated by the federal government. Easily intimidated, some people in that position are. He could have said, "No, Rush. Let's leave this alone." He gave me the letter. We put it up for auction on eBay as an example of the government trampling on the Constitution.

"It's a great historical example," I said, and I said, "Whoever buys this," donates the most to buy it, the charity I named, "I will match it."

…

I'm holding in my formerly nicotine-stained fingers a copy of Harry Reid's letter to Mark Mays. It was October the 2nd of 2007. Not only did Harry Reid send the letter, it was signed by I think every Democrat in the Senate, including Senator Kennedy. It was signed by Harry Reid, Dick Durbin, Patty Murray, Chuck Schumer, Tom "Dung Heap" Harkin, Jack Reed, Frank Lautenberg.

…

We put it up, and I said that whatever amount of money we get for this, I'm going to match it, and we're gonna donate it to (Are you waiting for it?) the Marine Corps-Law Enforcement Foundation, which has been one of my top charities since it was formed in the mid-nineties. The Marine Corps-Law Enforcement Foundation provides college scholarships for the children of Marines killed in action.

And during massive events like 9/11 they extend the scholarship offerings to the children of men and women killed in action from other services, the Air Force, the Secret Service, the Navy, you name it. Well, the bottom line is, ladies and gentlemen, that we ended up collecting a top donation of $2.1 million, and I had pledged to match it. So that meant that $4.2 million ended up being donated to the Marine Corps-Law Enforcement Foundation because Dingy Harry went to the floor of the Senate and attempted to use me to impugn the United States military.
Harry Reid had done everything Rush said he had done. But he wasn't done:
What did Harry Reid do?

After all of this, Harry Reid went back to the Senate floor and attempted to take credit for all of this. Have you forgotten that? He went back to the Senate floor and said, "This is the kind of great thing that can happen when people work together for a common good." His original attempt was to essentially silence me. He ended up being publicly humiliated, and then his last act was to try to glom on to it, take credit for it, and act like he was the one ultimate responsible for it all happening because this is what he wanted.
Harry Reid, John Adams, Garrison Keillor, Nebraska state senators, MSNBC guests, Lena Dunham are not dog sh*t themselves. They are the worms, spores, and other pathogens that lurk within that innocent waste product.
And they get away with their nonsense because no one in the media calls them on it. We do, but we are the definition of on one in the media.
PS: I reminded myself of this "phony soldier". He was one Jesse MacBeth. There's not much about him since he pled guilty for "using or possessing a forged or altered military discharge certificate and one count of making false statements in seeking benefits from the Veterans Administration".
But he does have a Twitter feed (by invitation only). This is as much as he admits to on the home screen: Black Romance Author, Muslim, and proud father of three
Boston
Figures. All of it.
PPS: Michael Patrick Leahy at Breitbart has plenty on the shady, slimy background to Reid's surprise announcement.