At the risk of starting WWIII—Kim, what the hell were you thinking?
His jowls are getting jowlier, his eyebrows have shrunk to hyphens and his haircut is a unique swept-back bouffant that emerges at an interesting angle from the shaved patches above his ears.

Kim Jong-un looks to have taken his image to a whole new level.

The North Korean leader appeared at a meeting of the political bureau of the central committee of the Workers' Party of Korea on Wednesday in the tightly buttoned grey tunic that has become a trademark, but it was his ongoing personal grooming battle that attracted the headlines.

Tweets mocked Mr Kim as he "unveils sculpted eyebrow work and defined hair", although CNN described the hair-do as a "power haircut".

New York magazine tried not to offend the North Korean leader by describing it as "ambitious", but The New York Daily News declined to beat around the bush and said it was "barbarous".

Staff at M&M Hair Academy in South Ealing, west London, put up a poster with "Bad Hair Day?" emblazoned across a picture of Kim Jong-un, with details of a special offer on men's haircuts.
"Power haircut", CNN? Typical of their flattery toward dictators. Remember Eason Jordan and Saddam Hussein?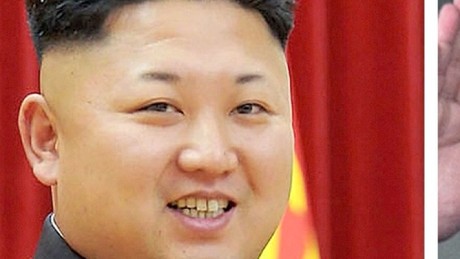 This man has his hand on the nuclear button. Be afraid.