I'm serious. This is criminal behavior. On any college campus, you'd be expelled and prosecuted.
Flopping Aces has a series of inappropriate, awkward Biden gropes, including a gif of an attempted kiss of a 13-year-old girl.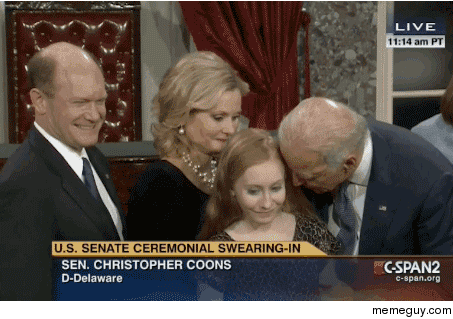 "I have to ask, 'cause a lot of people have been speculating about it, does she think the vice president is creepy?" [Chris] Wallace asked.

"No, Chris," Coons laughed. "She doesn't think the vice president is creepy."
I do. And I think it's wrong for a public official to paw women for his pleasure. If indecent assault on a minor isn't enough to get you canned, what is? And yes, I know that puts the Secretary of State one step closer to the White House. But that's a risk the country should be prepared to take in order to win the one-man War on Women.