Too often, it has been the butt of jokes; its interests have come at the end of the line.
Hugo Chavez is putting his pelvis front and center, forcing us to give it its due:
Venezuelan President Hugo Chavez has left Caracas for more cancer treatment in Cuba.

Mr Chavez, 57, is expected to undergo an operation on a lesion which he says is probably malignant.

He gave an emotional farewell to his supporters, telling them he would fight for his life, and promised to return to stand for re-election in October.

Last year, Mr Chavez said he was free from cancer after undergoing surgery and chemotherapy in Cuba.

"With cancer or without cancer, with rain, thunder or lightning, nothing and nobody can prevent the great victory of 7 October," he said referring to the date set for the presidential election.

Before boarding his flight to Havana, Mr Chavez said he would defeat "this new difficulty".

The exact nature and extent of his illness has never been made public, leading to persistent rumours that his health is worse than officially acknowledged.

Mr Chavez had surgery and four rounds of chemotherapy in Cuba last year after a baseball-sized growth was detected in his pelvic region.
This puts your old pal BTL in a bit of a pickle. While he believes Chavez is a dangerous figure, a man who would laugh at holocausts and drink to America's destruction… I also have a limit to my enjoyment of the misery of others. (Don't hate me.)
So, I'll have to ask others what they think: what say you, fellas?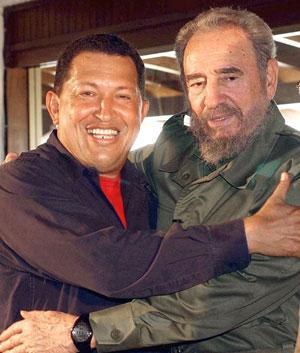 It's unanimous. I join other heads of state and world leaders in wishing Hugo Cavez and his pelvic region a full and speedy recovery. ¡Salud!