Welcome to town, Mr. President! Park your limo(s) anywhere (as you always did, if your unpaid parking tickets are any indication).
May we offer some suggestions to fill the time between your money grubbing?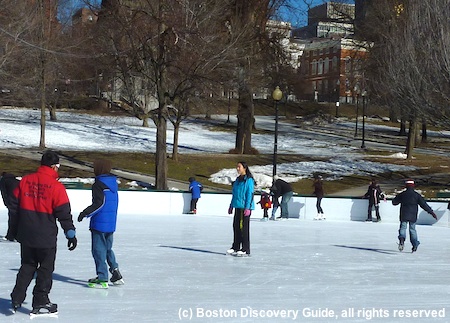 Like to skate? There's the Frog Pond in Boston Common, right next to Hampshire House, the model for Cheers. You and your security team of dozens can hoist a tankard (of hot chocolate) at the bar afterwards.
I see one of your shakedowns will be at the Charles Hotel in Harvard Square (no traffic problem there). Be sure to check out the Regattabar while you're there. Jussi Reijonen will be playing both the fretless and fretted guitars, backed by musicians from Finland, Sweden, Spain, and Palestine (wherever that is). If $18 a ticket for your entire entourage is too steep, have Michelle expense it. No one will question it.
Please notice the clean ice sheet that is the Charles River. We've suffered a lot to get it looking this nice. As global warming is the greatest threat we face, this may be your last chance.
And you can always read Howie Carr in the Herald:
Gov. Deval Patrick has a glass jaw. He can't take a punch.

Unfortunately for Deval, punches are about all he takes these days. And unlike the guy he'll be spending the day with, he doesn't have George W. Bush to point the finger at whenever anything goes wrong.
Perhaps you'd better not, sir.
Hey, it could have been worse. Someone could have asked him about the inspector general's EBT fraud report, showing an 87 percent increase in welfare fraud cases reported in the first 10 months of last year — 14,431 in all. That's an awful lot of anecdotes.

And here's another one, just in from Lynn. Last Saturday, cops found a man passed out in a car, with two kids in the back seat. According to reports, in the driver's possession they found 116 Oxys, 47 methadone pills, bags of marijuana and cocaine, $3,703.25 in cash and, as the local paper put it, "somebody else's Department of Transitional Assistance Card."

Make that 14,432 anecdotes.

Later today, an eminently qualified lawyer (he gave $110,000 to various Democratic pols and claimed that the greatest moment in his career was representing a Gitmo terrorist) will likely be voted down for a judgeship by the Governor's Council on a tie 4-4 vote.

And Deval has no way to break the tie after the resignation of his crooked lieutenant governor, Crash Murray.

Then there's the DCF fiasco, the marijuana-dispensary fiasco, the casino licensing fiasco, the completely worthless Obamacare website fiasco.

Somewhere, perhaps Deval is thinking to himself, if only he could wriggle out of every disaster the way his pal Barack does.

"George Bush did it!"
MSNBC host Rachel Maddow asserted Monday that George W. Bush, who exited office in 2009, is ultimately at fault for the current Ukrainian crisis.
It would take too long to bring you up to speed on all the fiascos Howie cites. What they add up to is the very expensive lesson that single party rule (at least by Democrats) is not only corrupt, but incompetent. (Imagine if they were competently corrupt!)
PS: I tried to find a picture of pure corruption, and this is what I came up with:
How'd I do?
PS: MF-er got me back good. I sat in a half-hour ObamaJam this afternoon. Thousands of cars idling in rush hour while his O-minence picked pockets about town. Thanks for the carbon, BHO!