It seems like only yesterday, they were running around in short pants and those cute little suicide vests.
Fatah is 50, and Elly May Clampett is dead: we're getting old, Aggie:
On occasion of the 50th anniversary yesterday of "the Launch" of the Fatah movement in 1965 when the organization carried out its first terror attack against Israel by attempting to blow up the National Water Carrier, Fatah is still promoting violence as "legitimate resistance" and Martyrdom-death as an ideal to strive for.

During December, Fatah posted several items on its official Facebook page that either promote the use of arms to fight Israel or encourage Palestinians to seek death for Allah. One text compared Mecca with Jerusalem:

"If the ground of Mecca is for worship, the ground of Jerusalem is for Martyrdom-death (Shahada)."
[Facebook, "Fatah – The Main Page," Dec. 12, 2014]

Another text described Fatah as the movement that "has taught us to love the homeland, and to love to die for it":

"We owe much to Fatah. It is looking at us with Yasser Arafat's eyes, and is revealed to us through his black keffiyeh (head dress).
Yasser Arafat's eyes? You asked for it:
I think I'd rather watch Lena Dunham dancing in a thong. (No! I'm over her!)
Fatah has also used its anniversary to glorify past terror attacks. One Facebook post included a poster from the 5th anniversary of "the Launch" of Fatah, on Jan. 1, 1970, showing images of what appear to be terror attacks in various Israeli cities.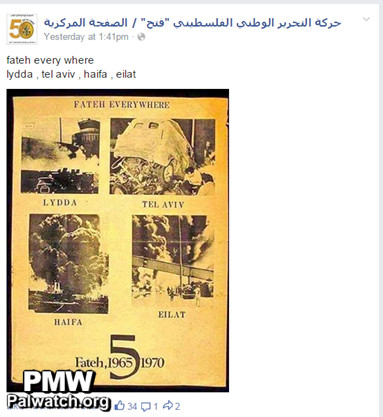 This image, showing pictures of Arafat and PA Chairman Abbas, is a poster from the video displaying the text:

"Fatah will carry on the struggle in all its forms until the liberation of the land and the man."
Fatah hasn't changed. Abbas is Arafat with a better tailor, whether Kerry and Obama acknowledge it or not.
PS: Who wants to sign the card?
UPDATE:
You know how it is at celebrations. Someone always takes things too far: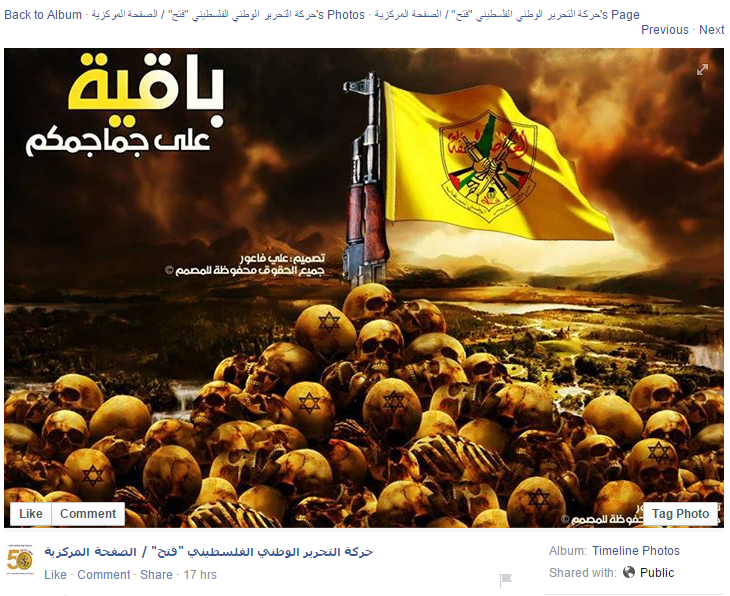 The political party of Palestinian Authority President Mahmoud Abbas posted a drawn image online showing a large pile of skulls and skeletons with Jewish stars on them.

An Israeli government spokesman called it "despicable."

Along with the image, posted Wednesday to the Facebook page of the Fatah party, are the words "lingering on your skulls."

When contacted by CNN on Friday, a member of the Fatah Central Committee disavowed the image.
"Fatah did not design this image," Mahmoud al-Aloul said. The person who posted it to Fatah's page "is currently being asked to remove it. The image and the text do not reflect the opinions of Fatah." The image was then pulled from the page.
Oh, come on, Fatah. How much worse is it than your average, run-of-the-mill genocidal incitement? BTW, credit to CNN for covering this. As far as I can see, no other mainstream US news site did.