Does President Obama know his ass from his elbow? It depends:
'No matter how we reform health care,' a newly minted President Barack Obama told a meeting of the American Medical Association in June 2009, 'we will keep this promise: If you like your doctor, you will be able to keep your doctor. Period. If you like your health care plan, you will be able to keep your health care plan. Period. No one will take it away. No matter what.'

But regulations formulated by his own administration make it clear that the White House never intended to to give Americans that level of free choice about their medical insurance options.

Washington, D.C. buzzed Friday with reports of what NBC News had surfaced: an under-the-radar notice in the Federal Register, which MailOnline has dated to June 17, 2010, laying out the administration's expectation that most people who buy their own health insurance will soon have no options other than paying exorbitant rates or joining the federal government's insurance exchanges.
So, he does know sh*t from Shinola.
Sen. Dianne Feinstein, a California Democrat who chairs the powerful Senate Intelligence Committee, seemed miffed at the idea that she and her colleagues were out of the loop when the president's men conducted surveillance on foreign leaders in Europe and Latin America.

And she said President Obama's lack of knowledge about monitoring of German Chancellor Angela Merkel's phones going back to 2002 posed 'a big problem.'
So, he doesn't know his ass from a hole in the ground. Hard to say, really: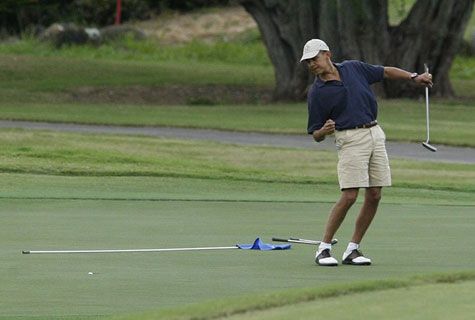 Did anyone tell him about this?
A pair of tweets sent by President Barack Obama's Twitter account re-directed users to to pro-Bashar al-Assad YouTube videos Monday afternoon.

One tweet about immigration reform was supposed to send followers to an article from The Washington Post. Instead, it linked to a video montage of terror attacks, starting with the attacks on 9/11.

…

The account, @BarackObama, is used by the president's Organizing For Action campaign.

"OFA links that were posted on Twitter/Facebook was hacked and redirected to a video showing the truth about Syria," a member of the Syrian Electronic Army told CNNMoney. The hacktivist group claims that it gained access to multiple OFA email accounts, in addition to MyBarackObama.com and donate.barackobama.com.

The two manipulated tweets were retweeted hundreds of times.

…

Though the hack of the president's tweets was relatively minor, security expert David Kennedy said the SEA could expose more if they gained access to other Website and Twitter management tools for the OFA campaign.
A President who couldn't rouse himself to follow the sealed fates of four Americans in Benghazi on 9/11/12, while he was prepping for a fundraising jaunt to Las Vegas, has this coming to him.
Enjoy that Shinola sandwich, sir. At least I hope it's Shinola.