I didn't watch, but social media is agog:
The 61-year-old actor arrived to present at the 87th Academy Awards and saw his old Love Song for Bobby Long co-star Scarlett Johansson on the pre-Oscars red carpet. He wasn't the only one; everyone spotted ScarJo as she and her plunging neckline posed for photos rocking a pompadour undercut, all but poured into a stunning forest-green Versace gown.

Travolta, who's on the early promo trail for his April opener The Forger, moseyed on over. He approached the unwitting Johansson from behind and planted an unsolicited smooch on her cheek, sliding a hand upon her tiny, unprepared waist.

Johansson, consummate red-carpet pro that she is, never flinched. She barely registered the intrusion, although paparazzi lenses would capture a brief grimace in her smile in those few unforeseen seconds.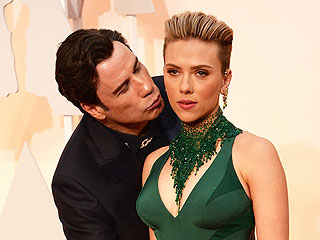 Of course she grimaced at being pawed by this louche lout. She's a nice Jewish girl.