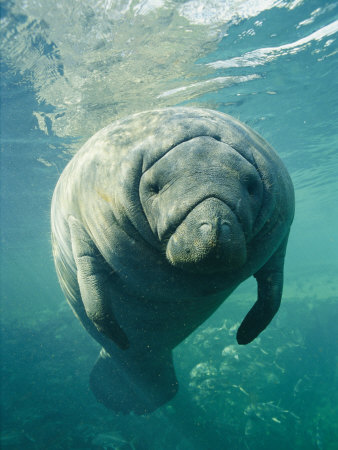 Death to Israel! Death to the Jews!
There's not much the widow Arafat says that I agree with, but I can see her point here—even if I think the metaphor is a little strained. I don't see her late old man as a manatee so much as I see him as a carp or maybe a catfish:
But if she wants to romanticize him in her memory as a ma—what? What's that?
Over seven years after the death of Palestinian Authority Chairman Yasser Arafat, the CNN network is publishing a rare interview with his widow Suha Arafat.

In the interview, parts of which were published on Wednesday, Suha discusses her suspicions that Israel poisoned her husband, the possibility that she would enter politics, and claims that she only married Arafat because of his position and then abandoned him at a the toughest point in his life.

…

Following allegations within the Arab world that Israel poisoned Yasser Arafat, who died of a mysterious illness in 2004, Anderson asked Suha whether she would have wanted a full autopsy on his body.

"Yes, but it was the decision of the Palestinian Authority, and I respected their decision. Yasser died with his secrets with him and no one can know the truth now."

…

"This has made me speak about what happened especially the last days of Yasser, the last you know, after the intifada Yasser and myself were portrayed as devils. I was portrayed as very, very – as the Mary Antoinette of the Arab world."

Anderson did not make it easy on Suha, asking her if she believed Arafat had been a terrorist, to which Suha responded: "No, a terrorist would not have ever taken the Nobel Peace Prize. You know there is this difference between a freedom fighter and a terrorist. My husband has never been a terrorist – he was a freedom fighter."

…

"Did he have a conscience?" asked Anderson; "Of course he had a conscience. Yasser Arafat was the conscience – he was the Mandela of the Arab world, the Mandela of Palestine," Suha stated.
Maybe she's got a point. I have a lot of respect for Mandela, but given Desmond Tutu's despicable hostility toward Israel, there may be more to Mandela and Arafat than meets the eye.