We've noted how kids attending UNRWA schools are spending their summers in terrorist youth training camps, learning about how to kill and kidnap Jews and other handy skills in the "struggle" agains "occupation". We've also noted that exposure to such violence and hatred is extremely harmful to the psyche of the kids.
The UN rouses itself in response:
A United Nations human rights body accused Israeli forces on Thursday of mistreating Palestinian children, including by torturing those in custody and using others as human shields.

Palestinian children in the Gaza and the West Bank, captured by Israel in the 1967 war, are routinely denied registration of their birth and access to health care, decent schools and clean water, the UN Committee on the Rights of the Child said.

"Palestinian children arrested by (Israeli) military and police are systematically subject to degrading treatment, and often to acts of torture, are interrogated in Hebrew, a language they did not understand, and sign confessions in Hebrew in order to be released," it said in a report.
Which is worse, the dirty water or the Hebrew?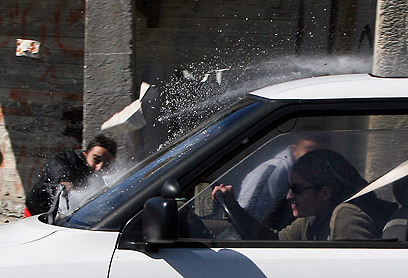 You're under arrest, Ahmed. Drink this.

Hava nagila, Hava nagila, Hava nagila ve-nismeha
The Foreign Ministry said it had responded to a report by the UN children's agency UNICEF in March on ill-treatment of Palestinian minors and questioned whether the UN committee's investigation covered new ground.

"If someone simply wants to magnify their political bias and political bashing of Israel not based on a new report, on work on the ground, but simply recycling old stuff, there is no importance in that," spokesman Yigal Palmor said.
UNICEF, UNRWA—as I've so often told you, anything with UN- in its name is poisonous.