Who says President Obama is anti-business? Some industries are absolutely booming under his leadership:
Planned Parenthood reported receiving a record $542 million in taxpayer support in fiscal 2012, marking a steady increase in government funding despite Republican-led efforts at the state and federal levels to cut off that stream.

The funding figures were included in the abortion provider's annual report released Monday. The numbers showed roughly 45 percent of Planned Parenthood's budget now comes from taxpayer dollars.

Pro-life groups quickly seized on the report to renew their calls for Congress to "defund" Planned Parenthood.

"Americans are sick and tired of underwriting the nation's largest abortion business," said Marjorie Dannenfelser, president of the Susan B. Anthony List.

…

According to the latest annual report, the $542 million in taxpayer support last year counted Medicaid money. The total represents a steady increase, up 11 percent from $487 million the year before; that amount was up 34 percent from $363 million the year before that.
Obama's first full year in office was 2010—since which time federal funding for Planned Parenthood has increased by nearly fifty percent. We the people now own almost half of it.
Now, there is some dispute about how much of PP's budget goes to abortion and how much toward other services.
The latest annual report also showed Planned Parenthood performed nearly 334,000 abortions in 2011, which The Susan B. Anthony List said was a record. Though federal funding is not supposed to go toward abortions, pro-life groups and lawmakers still suggested a connection between the increases.

…

Planned Parenthood argues that it provides a range of services aside from abortions. The annual report showed the group provided STD treatment and testing for 4.5 million people. Planned Parenthood provided cancer screening and prevention services for 1.3 million people.

The group also provides pregnancy tests and contraceptive services.
Fair enough, I'll buy that (figuratively speaking).
Knowing the president has their back, PP is talking pretty tough:
"Some members of Congress just don't get it. Two years ago, the first order of business for Tea Party Republicans was blocking women's access to health care and defunding Planned Parenthood, and now they're at it again," president Cecile Richards said. "They apparently learned nothing from the results of the last election, when Americans said overwhelmingly that they do not want politicians dictating women's access to health care. This legislation would limit women's access to the wide range of preventive health care services that Planned Parenthood health centers provide, including cancer screenings, breast exams and birth control."
We'll have to take PP's word on cancer screenings and the like. I've written before of attempts to find PP centers that actually offer them. Easier said than done.
But all that's argument and conjecture. What about the numbers?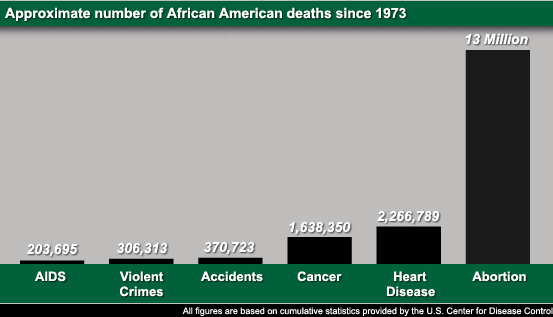 Without taking sides, we can all agree that abortion is the greatest killer of black people—far more than all other causes of death combined. (I've seen other statistics, though none current, that show black woman avail themselves of abortions at numbers way, way beyond their percentage of the population.)
It follows, then, that we have observed the election (and now reelection) of the nation's first black president—a proud moment, to be sure, even if I didn't vote for him—with a fifty percent greater investment in the killing unborn black children. Am I wrong? Is it too hateful of me to remark that awesome a man as he is (or believes himself to be), Barack Obama isn't worth one baby, let alone hundreds of thousands? Wouldn't a President Romney have saved more black souls than any president since Abraham Lincoln?
I wish I would just take a pill and be happy in ObAmerica. But I don't think a pill will do it. I need the surgery: a lobotomy.