Boy, is that ever a loaded question.
Look closely a the two images. See the difference?
Here's a hint: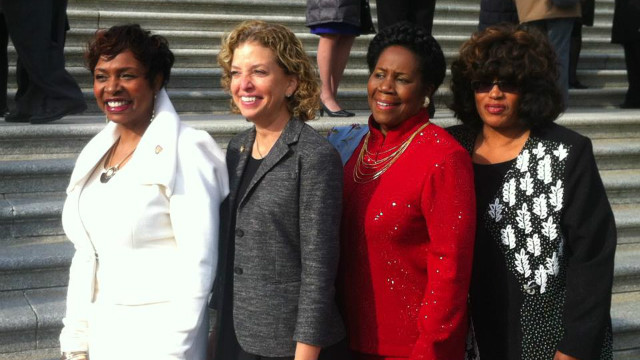 Why didn't they just "deem" them photographed and be done with it?
It's a historical photo which shows the 61 Democratic Congresswomen who were sworn in on Thursday.

Except it never (fully) happened.

Pelosi explained why the photo her office released and posted online shows four more faces – all members of Congress – than does one taken by other photographers at the photo opportunity.

"Is that what they did?" she asked when a reporter questioned her about the apparent technical addition – "Photoshopping" – of (left to right) Reps. Yvette Clarke, Debbie Wasserman Schultz, Shelia Jackson Lee, and Corrine Brown to the official photo.

Pressed further as to whether the photo she distributed was an accurate historical record, she said, "Yeah, but [it's a] historical record of who the Democratic women of Congress are.

"And also is an accurate record that it was freezing cold, and our members had been waiting a long time for everyone to arrive, and that I had to get back into the building to greet constituents, family members to get ready to the – go to the floor," she said a press conference. "It wasn't like we had the rest of the day to stand there."
We all know what it's like to wait for a woman to get ready (oh BTL, you're going to pay for that!), but in this case, they were all women. Why were four of them so inconsiderate to keep the rest of their sisters (57 out of 61) in the freezing cold?
Not that Pelosi would have cared: her face has been frozen since the Clinton administration.
Pelosi said the photo "was an accurate reflection of who the 61 members – the Democratic women members of Congress are."

"And not only were they women, but they reflected the beautiful diversity of our – our country. Women who are – from every community, as well as every religious faith. So we were pretty excited about it," she said.

The newly inaugurated Congress includes 78 women voting members. Nineteen of the congresswomen are freshmen. Pelosi's count included three non-voting delegates to Congress.
How symbolic of Pelosi's entire view of the world. The image is the reality, even if the numbers don't quite add up. It's fake but accurate.
PS: "Is that what the did?" Is she saying she didn't know? Then why defend it? Just shrug it off. How typical also of Pelosi to defend something she doesn't understand in terms irrelevant to the story. The story hardly matters; her instinctive weaselness does.
PPS: "Women who are – from every community, as well as every religious faith."
Except there are no women Muslims in Congress. Other than that, the claim is accurate.
Though Tulsi Gabbard, a Hindu, is my new favorite congresswoman!
Holy cow!