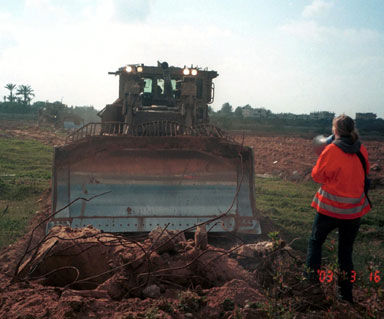 Rachel, honey, you have to move! We need the bulldozer this time!

The body of the late Palestinian leader Yasser Arafat was exhumed on Tuesday by a team of international experts trying to discover if he was poisoned, as many Palestinians believe. Several hours later, the remains were reburied.

French magistrates opened a murder inquiry in August into Arafat's death in Paris after a Swiss institute said it had discovered high levels of radioactive polonium on his clothing, which was supplied by his widow, Suha.

Arafat died in Paris aged 75 in 2004 after a short, mysterious illness.
"Mysterious"? Please. It's the same mysterious illness that claimed the lives of Haitians and hemophiliacs in the early 1980s. Maybe Arafat had a little Haitian in him (or wished he did).
"At 5:00 am (0300 GMT), experts began to remove the stones and began opening the grave in an orderly fashion. The remains were then transferred to a mosque adjacent to the grave for the removal of samples," a Palestinian source told AFP on condition of anonymity.

The source said only a Palestinian doctor would be allowed to directly touch the remains and remove the samples, but that the process was being conducted in front of Swiss, Russian and French experts.
Why only an Arab doctor? Not that the line to handle his moldering body would be long, but it's a bit suspicious that only an Arab doctor can scrape away the maggots to take (or plant) a sample.
Oh well, what do I care? At the very least, they've proved that he's still dead.