Is this that "fiscal cliff" I've heard so much about?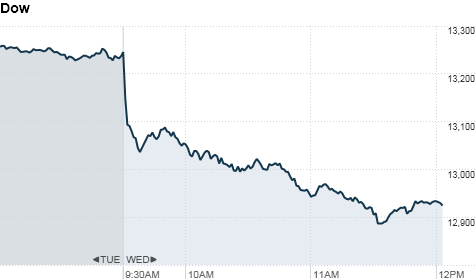 A sell-off on Wall Street gained momentum Wednesday, with the Dow falling below 13,000 for the first time in two months, as investors focused on how President Obama plans to avoid the fiscal cliff after he won re-election Tuesday night.

The Dow Jones industrial average fell more than 300 points, or 2.3%.

…

"This is purely a reaction to the political landscape and an investor response to the policies on the table — all the new regulation that will add to the costs of doing business for certain industries and sectors" said Jack Ablin, chief investment office at Harris Private Bank. "Financials are getting hit the hardest, and energy isn't far behind."
On the bright side:
Oil prices tumbled 4% to $85.12 a barrel.
At least the gas that you can't buy will be cheaper, New Yorkers!
Welcome to your new economy—same as the old.
But I don't know what I think until I hear Rick Santelli say it.
I became conservative because I wanted a solvent country for my children (among many other reasons). But if young voters want this kind of government and this kind of economy (and one of my kids voted for the first time this election), then it's theirs to choose. And if Hispanic voters are such a large voting block, and they went overwhelmingly for Obama, shouldn't their collective voice be heard and heeded?
I'm not saying conservatives are wrong. We're clearly not. But if the popular vote can bring about the Muslim Brotherhood in Egypt, why should we be surprised if it leads to Big Brotherhood in America?